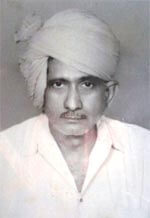 Our Inspiration
Late Mr. Rughanathbhai Padhiyar
Founded in 2008, Green Field Seeds is an agricultural seeds production and export organization based in India. We believe and strive to deliver high quality food for a better and healthier world by supporting the farmers with outstanding seeds and crop solutions.
While we are relatively new organization, we share our history with a decades old company initiated by Rughanathbhai Padhiyar. He started a company focusing on vegetable seeds business in 1956 as a seeds trader by the name of M/s. Rughanathbhai & Sons, which we took forward in 2008 by establishing Green Field Seeds. We aspire to become one of the leading and lasting organizations in our business niche and want to deliver finest quality agricultural seeds to support quality farming across the globe.
We majorly work in multiplication, breeding sales & marketing of vegetable seeds, field Crops & Fodder Crops. The potential crops for which we possess superior quality seeds include musk melon, brinjal, carrot, beans, cucumber, okra, tomato, watermelon, all sorts of gourds, and hot peppers.
We export vegetable and fruit seeds to a wide array of countries subsuming Thailand, Vietnam, Bangladesh, Pakistan, and some countries of Africa. We emphasize on delivering finest quality seeds at the most competitive prices to promote good farming. We are focused towards empowering the farmers, both small and large, to produce optimum from their land while conserving some of the most valuable and vital natural resources like energy and water. We use technological advances to develop the most productive seeds for the farmers that can aid them in reducing their on-farm costs, and supporting their on-farm productivity along with efficiency.
Mission
Our mission is to dedicatedly indulge in the sustainable growth of agriculture not only in India but across the continents by being one of the leading and reliable agro inputs producer, researcher, and exporter.