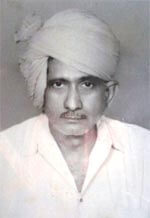 Our Inspiration
Late Mr. Rughanathbhai Padhiyar
Visioning better quality food and a healthier tomorrow, Green Field Seeds stands as one of the fastest emerging agricultural seeds production and export organizations in India. We support farmers around the world by offering them the widest range of vegetable and fruit seeds, as well as field and fodder crops.
Who Are We ?
To fill the widening market gap and meet rising demand, in 1956, Rughanathbhai Padhiyar started a seed trading company called M/s. Rughanathbhai & Sons. Started small and slow, the company consequently rose to new heights, becoming a go-to destination for hundreds of farmers in and outside the town. Over the decades, it flourished, expanded and sustained under the leadership of following generations. In 2008, we decided to carry forward the legacy of (Lt) Mr. Rughanathbhai Padhiyar to greater heights under the name of Green Field Seeds. And in the past few years – in streamline with the market trends and our growth strategy – we managed to do that successfully. Today, Green Field Seeds is one of the favorite producers and exporters of seeds and crops to thousands of farmers in India, Thailand, Pakistan, Bangladesh, Vietnam and many parts of Africa.
What Do We do ?
We specialize in the multiplication and breeding sales of fruit and vegetable seeds. Sticking to the best of quality standards, our collection includes everything from tomato, brinjal and onion seeds to watermelon and pumpkin seeds. We also offer a range of field and fodder crops that includes maize, sesame, mustard, bajra, SSG jowar, hybrid multi-cut bajra. On the back of most qualified professionals and world-class facility, we promise buyers of no less than the best quality and 100 percent satisfaction.
Our Mission
Here, at Green Field Seeds, we are armed with state-of-art infrastructure and cutting-edge practices. We aim to empower farmers with our persevering emphasis on delivering seeds and crop solutions of the finest quality at the most competitive pricing. Our products, developed in the tech-advanced facility, promise them to reduce on-farm costs, as well as boost their efficiency and productivity. We're already at the pinnacle of our industry, enjoying unparalleled market reputation as the most reliable agro inputs researcher, producer, and exporter. But we are nowhere close to stopping in our commitment to pillar the idea of sustainable agriculture growth not just in India but across the world. For more information, please contact us.